Last Updated on November 29, 2022
Portland to create six large camping sites (ghettos) for those experiencing homelessness – Nov 3, 2022
Rick Bowers' opinion. From my experience sometimes doing something, even if it's not the best thing, has the potential to bring about a good thing. That's my optimistic-self speaking. See the article on Chico, CA, for a still unfolding example of this. My pessimistic-self wonders if the following is a political stunt… five days before the midterm election where homelessness is a significant issue with voters. My very-pessimistic-self can't help but wonder if Portland leaders are this clueless….
In Portland, on November 3, 2022, leaders approved a series of resolutions to "address" the longstanding homelessness situation. Apparently the unfunded resolutions would create six campsites (each with a limit of 250 campers), build 20,000 units of affordable housing, and prohibit camping outside of the approved campsites. By unfunded I mean to the tune of at least $9.8B.1 That's right; billion with a "b" as in "Boy, where do we get that kind of money!"
My angst is is about the size of each campsite (initially 125 and up to 250 campers) and the feasibility of building 20,000 units of affordable housing.
Campsite Capacity. The third resolution below outlines the justification for a reasonably small number of campsites. It says "the campus model and phased approach is more effective for connecting individuals with services such as charitable, government, and healthcare." The argument suggests it's easier to provide case management and other supportive services to a limited number of well-defined locations. That may in itself make sense… only if large campsites are feasible. The resolution identifies three examples of implied success.
The first is the Safe Stay program. As it turns out the Safe Stay program involves 20 Pallet Shelters housing about 25 people. There are two problems with this. First, it's not a campsite; it's tiny homes (commercially built by Pallet). Second, it doesn't come close to representing a successful location of 125 – 250 campers. The Portland resolution did not provide a link to information regarding the Safe Stay program. I found this recent article: https://www.columbian.com/news/2022/sep/03/vancouver-safe-stay-community-nourished-with-meals-prepared-by-volunteers/.
The second example is Medford's Urban Campground. Medford's new location for its urban campground, approved in June 2022, has a very limited track record with a large number of people. Apparently it can support up to 125 guests in a combination of tents and Pallet Shelters. But this land was only acquired about six months ago. That's not a reasonable track record of success. The urban campground was originally opened in 2020 serving twenty-five campers. This is NOT a criticism of the urban campground; it IS a criticism of using it as an example of a large campsite with an implied history of success. And again, managing Pallet Shelters, with the ability to provide guests with a lock and key is different than the challenge of monitoring and keeping people safe in unsecured tents. See https://www.kdrv.com/community/medford-city-council-approves-rogue-retreat-s-new-urban-campground-location/article_acfc6070-ee9e-11ec-8412-c72f7a619db6.html and https://www.opb.org/article/2020/08/18/medfords-first-urban-campground-provides-a-safe-space-for-homeless-campers-but-not-for-long/.
To me the third example, the Talent Gateway Transitional Housing Project, is particularly disingenuous. The project itself is fantastic. However, listing this project in the Portland resolution to me implies it is a relevant example of housing homeless individuals that are comparable to Portland's homeless population. It is not. The Talent Gateway Transitional Housing Project "brought 53 RVs to the site to house families displaced due to the Almeda Fire, which ravaged Southern Oregon in September 2020. Priority at this site is given to families in the Phoenix-Talent school district, so that they may return to and stay within their schools." In other words, this project was to house families displaced by fires. To use this as a model for large homeless camps occurs to me as disingenuous. See https://www.rogueretreat.org/housing-shelter/#gateway-transitional.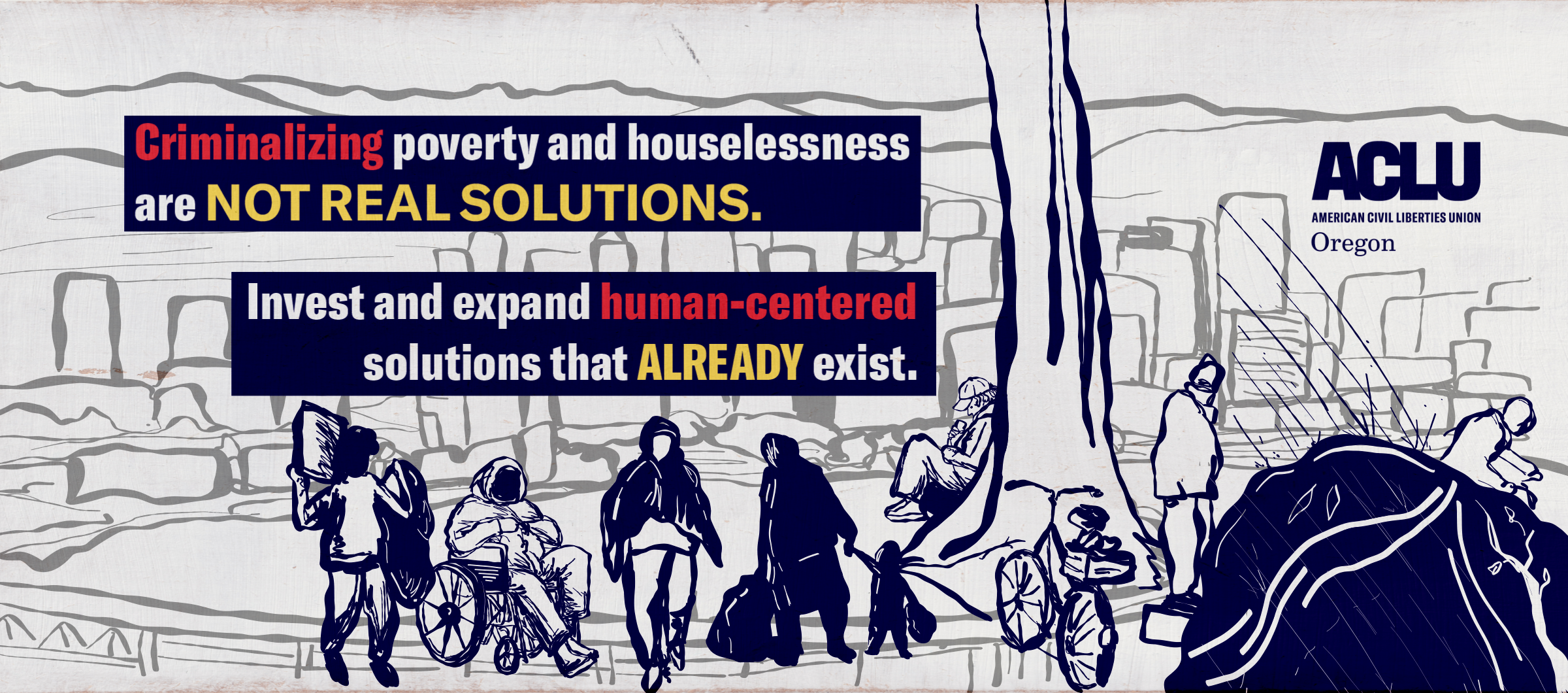 Here's what the ACLU had to say: "Last week, Portland City Council voted 4-1 to ban camping on public property, targeting the unhoused community. The ban likely violates the Eighth Amendment as cruel and unusual punishment because the City has not provided sufficient shelter spaces for unhoused people and it ultimately punishes people based on their unhoused status…." Read the article at https://www.aclu-or.org/en/camping-ban-will-criminalize-poverty-further-impeding-real-solutions.
And finally, Oregon Public Broadcasting stated: "Portland leaders approved a controversial plan Thursday to ban unsanctioned camping in the city as constituents seethe over the region's unabated homeless crisis.
The plan, composed of five resolutions, would create six large city-approved camping sites, build 20,000 units of affordable housing, and allow Portland leaders to prohibit unsanctioned camping on city streets. After an amendment introduced by Commissioner Carmen Rubio, the council agreed to cap the size of the camps at 250 people rather than the earlier proposed maximum of 500…." Read the entire article at https://www.opb.org/article/2022/11/03/portland-leaders-approve-plan-to-ban-homeless-camping-set-up-large-sites/.
The following, in no particular order, are the resolutions adopted at the November 3, 2022 Council meeting (click each to expand):
Establish key actions to increase affordable housing construction (see footnote 1)
This resolution outlines the recent history of Portland's housing situation – beginning with declaring a housing emergency in 2015. Significant factual items identified include:
"The Portland region will need 295,000 additional housing units by 2040."
"Residents in need of affordable housing wait an average of five years and sometimes up to ten years from the time they apply for public housing units and project-based housing choice vouchers."
"Constructing new affordable housing in Portland currently costs approximately $490,000 per unit, with an average subsidy from PHB [Portland Housing Bureau] of approximately $150,000 per unit in development projects receiving City funds."
"Constructing 20,000 units of affordable housing could cost approximately $9.8 billion and, based on PHB's current contribution levels, could require a direct City subsidy of $3 billion."
"In 2019, the state legislature adopted House Bill 2003, requiring local jurisdictions to study the future housing needs of their residents and to develop a list of specific tools, actions, and policies…. Portland is required to complete the required Housing Needs Assessment by December 2023 and the required Housing Production Strategy by December 2024."
New action items were identified:
Therefore the "City Council directs City bureaus and Council offices to work together to identify policy and regulatory adjustments, investments, and public-private partnerships to catalyze the production of 20,000 units of affordable housing by 2033 and other forms of housing production."
"City Council directs City bureaus and Council offices to work together to pursue immediate actions to reduce the cost of building housing in Portland that is affordable to middle and lower income residents."
Assess options to increase coordination and enhance unhoused access to paid non-standard work (see footnote 2)
This resolution focusing on the employment challenges of the unhoused. Action items include:
"The City of Portland joins the regional multi-jurisdictional government partnership with labor, minority chambers and regional community organizations that have established workforce programs serving the targeted populations listed above to explore how to expand non-standard work options, especially for Portlanders experiencing houselessness."
"The City Council directs City bureaus who use or purchase non-standard work to participate in a study on organizing better city-funded non-standard work opportunities to create a better marketplace built around access, protection, control, and progression for workers."
"Portland's labor unions representing city workers and others are invited to partner and co-create this initiative."
And more….
Connect mental health and substance abuse recovery services to unhoused individuals [justifies large campsites] (see footnote 3)
This resolution identifies several facts including:
"The unsheltered homeless population grew by 50% from 2,037 people in 2019 to 3,057 people in 2022."
"The Impact Reduction Program of the City of Portland has observed over 700 self-sited unsanctioned encampments across the City's 146 square miles."
"In early 2022, 95% of homeless individuals surveyed said they were not offered temporary shelter, transitional or permanent housing or other services to meet their immediate needs prior to the removal of their self-sited encampment."
The unsanctioned camps have a lack of basic sanitation.
"Street Roots found that homeless individuals were more likely to be victims of violent crime than perpetrators."
"The ultimate solution to homelessness is housing, including rapid re-housing an intervention designed to quickly connect people to housing and services."
"The campus model and phased approach is more effective for connecting individuals with services such as charitable, government, and healthcare, for example, Vancouver's meal train for its Safe Stay program, Medford's Urban Campground for up to 125 people, and Talent Gateway Transitional Housing Project for 159 people in 53 RVs."
And more….
Given this, the resolution calls for the following action (& more):
"The City Council directs City bureaus and Council offices to work together to develop a plan that identifies needed policy changes, investments, and public, nonprofit, and private partnerships to greatly expand the number of available shelter slots as quickly as possible;
obtain all health and human services at key sites;… and,
complete an operational plan to phase-in over 18 months, once funding has been secured, a citywide ban on self-sited unsanctioned encampments coupled with designated alternative camping sites with services"
Wow, good idea; develop a plan…. How many years into the homelessness crisis and Portland leaders decide to direct city staff to develop a plan. And then ban unsanctioned camping….
Set City budget priorities to implement affordable housing, connect homeless individuals with sanitary, mental health and substance abuse recovery services and request assistance from County, Metro, State, and Federal partners (see footnote 4)
This resolution identifies several facts including:
"The City of Portland, throughout the pandemic, directed approximately $45.5 million in emergency relief dollars to houselessness response and household stabilization;"
…
" the Oregon Mayors Association (OMA) created a Taskforce on Homelessness (Taskforce), consisting of 25 mayors from across the state, in May of 2022, to develop a response to homelessness that would help all communities statewide, regardless of size, or location, to address Oregon's homelessness crisis."
….
Given this, the resolution calls for the following action (& more):
"The City Council of Portland supports the plan proposed by the OMA Taskforce on Homelessness;
….
The Oregon Mayor Associations plan? Ask the state for money… to the tune of $40/resident with a minimum of $50,000 per city/town. For a city with a population of 10,000 (e.g. Astoria), that amounts to $400,000. Annually. For the state it's $123,575,800; annually. Basically the plan says "give us the money and we'll spend it on good stuff." See https://www.oregonmayors.org/oma/page/oma-taskforce-homelessness.
Create a diversion program for individuals experiencing homelessness (see footnote 5)
The resolution calls for the following action (& more):
"The City seeks to ensure collaboration among stakeholders… in order to provide alternatives to punitive sanctions and improved access to service provider networks for homeless community members;"
"the City is requesting assistance from County law enforcement agencies… to help design a system for referring homeless community members to diversion in a manner that minimizes exposure to criminal and financial penalties. For instance, when a low level violation occurs, the City wants to ensure people experiencing homelessness are provided with multiple opportunities to avoid punitive sanctions of any kind. To achieve this goal, the City will collaborate with stakeholders to design an enforcement approach utilizing multiple warnings and repeated invitations to participate in diversion before any civil or criminal penalty would be imposed;"
And much more…. Of course the devil is in the details but I like the concept of a diversionary plan.